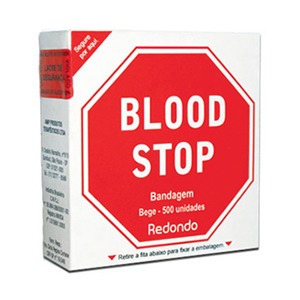 Blood Stop
Blood Stop is a professional practical bandage, easy to apply. There are three kinds: continuous, economic and funny, each focused to achieve the best results in different types of use. For more than 30 years on professional bandages market, Blood Stop is present at the main Brazilian hospitals and laboratories. It was, also, a supporter of Pró-Sangue Foundation in many donation campaigns..
Blood Stop 200
Blood Stop 200 is facing hospitals and laboratories which care for quality at the conclusion of laboratory tests. The Blood Stop 200 package was developed to make the exam's conclusion process practical, fast and more economic. In each plastic pack is found 200 bandage units, which are easily removed and applied.
Blood Stop 500
Maintaining the practicality and agility at the conclusion of laboratory tests, Blood Stop 500 presents an economic pasteboard pack with 500 bandage units. It was developed for hospitals and laboratories that present high demand of exams and blood collection.
Funny Blood Stop
The Blood Stop line counts on a product for kids. Funny Stop Blood presents funny illustrations on the bandages, helping appliers with children care. It has a pasteboard pack with 500 units.